World Bank Blog4Dev Essay Contest 2020 for Sub-Saharan African Countries (Win Internship at a World Bank Africa country office/Attend IMF Spring Meetings 2020 in Washington DC)
This year, the World Bank wants to have your thoughts on "What will it take to end child marriage in your country?" for a chance to win great prizes.
Application Deadline: 30th November, 2019
Eligible Countries: Sub-Saharan African Countries
About the Award:
What will it take to end child marriage in your country?
The 2018 World Bank Group Human Capital Index revealed that countries in Sub-Saharan Africa score the lowest in skills, health, knowledge and resilience of all the world's regions. This reflects challenges such as high mortality and stunting rates, as well as inadequate student learning outcomes.
Aiming to help Sub-Saharan countries to tackle these issues, the World Bank Africa Region launched its Human Capital Plan with ambitious targets, including a reduction in child mortality to save four million lives, averting stunting among 11 million children, and increasing learning outcomes for girls and boys in school by 20%.
Empowering women to prevent early marriage and pregnancy for adolescent girls is also an objective of the plan. According to Hafez Ghanem, World Bank Vice President for Africa, "the adolescent fertility rate in Sub-Saharan Africa is 102 births per 1,000 girls—three times as high as in South Asia. This not only damaging for girls and their children, but it also hurts economic growth."
Sub-Saharan Africa has the highest prevalence of child marriage in the world. Nearly four out of 10 young women in this region were married before the age of 18. These young girls are having their childhoods cut short, but this goes far beyond a moral issue. This situation has a negative impact on development. They are also more likely to have children at a young age, which affects their health, and they are much more likely to drop out of school and complete fewer years of education than expected. This will curb their capacity to enter the job market with the adequate skills, and therefore reducing their potential for higher income.
Estimates for 12 countries in Sub-Saharan Africa say that child marriage is costing these countries $63 billion in lost earnings and human capital wealth.  Addressing the issue of child marriage is therefore a crucial development challenge for all countries in Sub-Saharan Africa.
So, we want to hear from you! Share your views by answering the following question: "What will it take to end child marriage in your country?"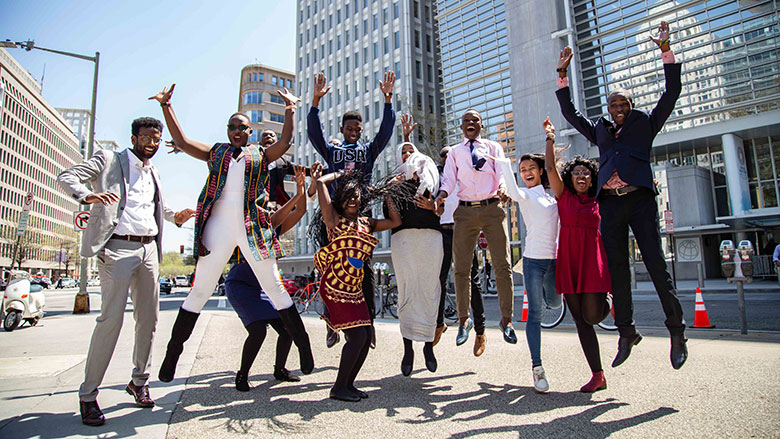 Type: Contest
Eligibility: To be eligible for the #Blog4Dev contest, candidate must:
Be a citizen of any of the 48 countries in Sub-Saharan Africa
Be between the ages of 18 and 28 years of age on November 30, 2019.
Currently reside in a Sub-Saharan African country
Selection Criteria: A panel of judges made up of World Bank staff will review the submissions to determine the winning entries.
The winning submissions will be selected based on the following criteria:
Originality
Innovation and Creativity
Boldness
Clarity in Writing and Presentation
Convincing and Impactful
Ideas Must be Implementable
Scalability
Practicality and Relevance
Potential Impact on Development
Potential Impact on Jobs
Number of Awardees: 5
Value of Contest: Winning authors are eligible for several prizes, including being invited to attend a dedicated program during the World Bank – IMF Spring Meetings 2020 in Washington DC, opportunities to represent Africa's youth at high-level events, a chance to intern at a World Bank Africa country office, or an opportunity to have your blog published on the World Bank Africa blog Youth Transforming Africa
How to Apply: Using the links below, submit your original blog entry detailing your ideas about what it will take to end Early Child Marriage in your country, written in English, French or Portuguese by November 30, 2019.
Submissions through email or post will not be accepted.
Visit Contest Webpage for details
Award Provider: World Bank Group