Through the OWSD Elsevier Foundation Awards, the Elsevier Foundation is calling for nominations of hardworking science-inclined women from Africa and other developing countries.
PREVIOUS Application Deadline: 15th September 2022
Eligible Countries: 
Africa: Angola, Benin, Burkina Faso, Burundi, Cameroon, Central African Republic, Chad, Comoros, Congo, Côte d'Ivoire, Dem. Rep. Congo, Equatorial Guinea, Eritrea, Ethiopia, Gambia, Ghana, Guinea, Guinea-Bissau, Kenya, Lesotho, Liberia, Madagascar, Malawi, Mali, Mauritania, Mozambique, Niger, Rwanda, Sao Tome and Principe, Senegal, Sierra Leone, Somalia, South Sudan, Swaziland, Tanzania, Togo, Uganda, Zambia, Zimbabwe.
Arab Region: Djibouti, Palestine (West Bank & Gaza Strip), Sudan, Syrian Arab Republic, Yemen.
Asia and the Pacific: Afghanistan, Bangladesh, Bhutan, Cambodia, Kiribati, Lao People's Dem. Rep., Mongolia, Myanmar, Nepal, Solomon Islands, Sri Lanka, Tajikistan, Timor-Leste, Tuvalu, Vanuatu.
Latin America and the Caribbean: Bolivia, El Salvador, Guatemala, Haiti, Honduras, Nicaragua, Paraguay.
To be taken at (country): USA
About the OWSD Elsevier Foundation Awards: 
The OWSD Elsevier Foundation Awards for Early Career Women Scientists reward and encourage women working and living in developing countries who are in the early stages of their scientific careers, having often overcome great challenges to achieve research excellence. Awardees must have made a demonstrable impact on the research environment, both at a regional and international level, and must have received their PhD in the last ten years.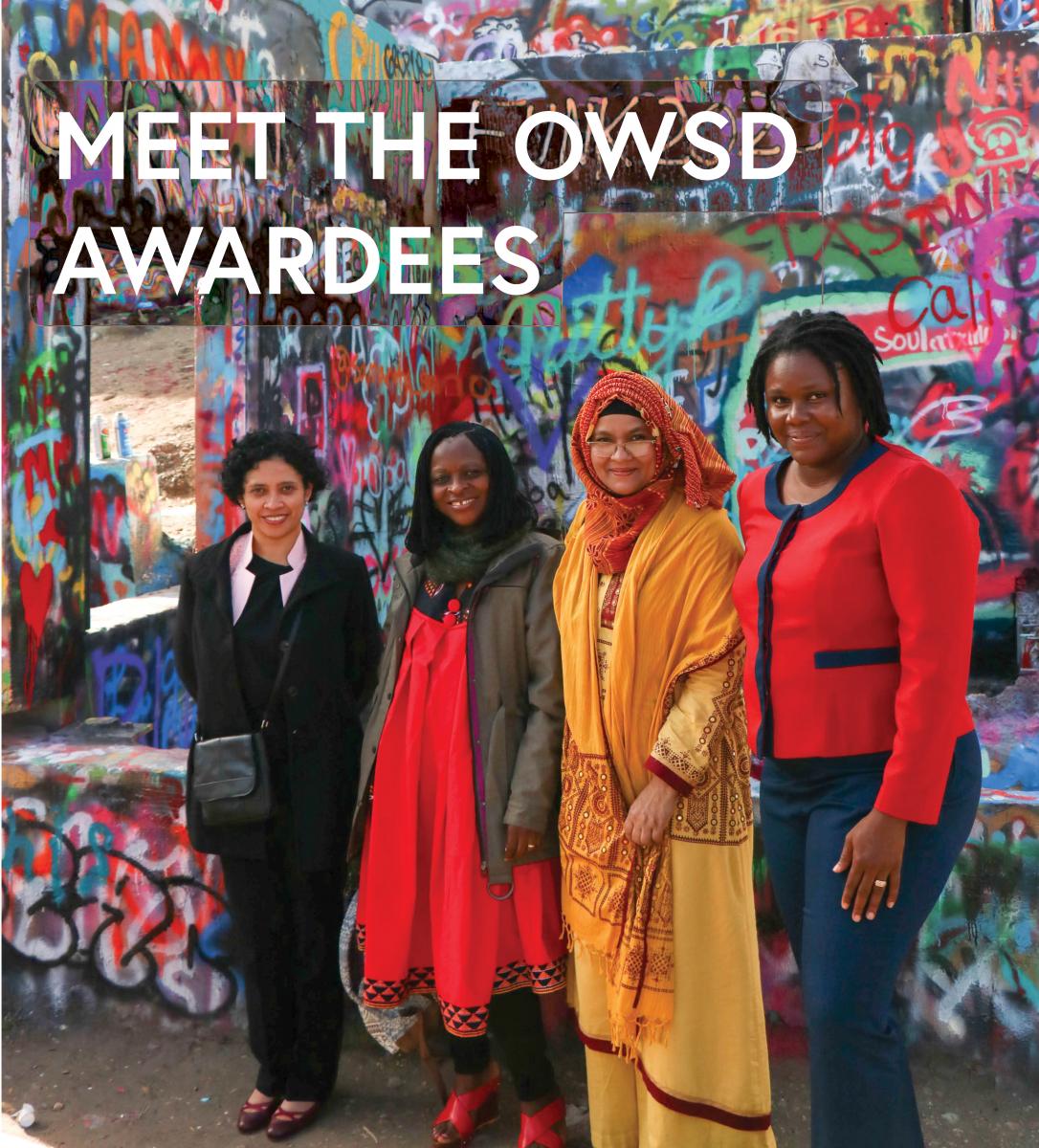 The OWSD Elsevier Foundation Awards programme grew out of a one-time award given in 2011 by OWSD, the Elsevier Foundation and TWAS, the World Academy of Sciences, which was given to 11 early career women from developing countries working in STEM subjects. In 2013, the awards programme was launched, with the number of awards reduced to 5 per year on a three-year rotation of award categories. The eligible scientific disciplines for each year were organized into general fields: Biological sciences; Engineering, innovation & technology; and Physical sciences.
After ten years of celebrating women in science, in 2021 we have decided to re-focus the awards to respond to the call for action set forth by the United Nations Sustainable Development Goals (SDGs). The number of awards will continue to be 5 per year (one from each OWSD region plus one additional outstanding candidate) for a period of five years (2022 – 2026).
Nominations are invited from senior academics, including OWSD members, TWAS Fellows, ICTP visiting scientists and staff, national science academies, national research councils and heads of departments/universities both in developing and developed countries.
2022 Awards: Climate action and the environment (SDG13, SDG14 or SDG15) – applications in 2021
2023 Awards: Food Security, agricultural productivity and sustainable food production (SDG2) – applications in 2022
2024 Awards: Water, sanitation and hygiene (SDG6) – applications in 2023
2025 Awards: Inclusive Health (SDG3) – applications in 2024
2026 Awards: Sustainable, affordable and reliable energy (SDG7) – applications in 2025
Type: Award, Research
Eligibility: The applicant must be a female scientist who has received her PhD within the previous ten years. The eligible subject fields for the 2022 awards include:
Agricultural Sciences
Astronomy, Space and Earth Sciences
Biological Systems and Organisms
Chemical Sciences
Computing and Information Technology
Engineering Sciences
Mathematical Sciences
Medical and Health Sciences (including Neurosciences)
Physics
Structural, Cell and Molecular Biology
In addition, the applicant must have lived and worked in one of the following science and technology lagging countries above for at least 5 of the last 15 years:
Please note that an applicant, at the time of application, must NOT have an active research grant or fellowship with The World Academy of Sciences (TWAS) or have already submitted an application for a TWAS programme within the same given year. Only one application per year is possible across all TWAS and OWSD programmes. Applicants will not be eligible to visit another institution in that year under the TWAS Visiting Professor programmes. An exception is made only for the head of an institution who invites an external scholar to share his/her expertise under the TWAS Visiting Professor programmes; she may still apply for another programme.
Selection Criteria: Applications for the OWSD Elsevier Foundation Awards will be judged in terms of:
Scientific merit (eg. quality of publications)
International and regional impact (eg. invitations to present or chair at meetings; organization or participation on workshops; collaborations with scientists from other countries; national or regional awards received)
Capacity building – local, national and regional (eg. evidence of running MSc or PhD training programmes; developing and providing resources for students and young researchers; mentoring activities).
Evidence of innovation will be considered favourably.
Number of Awardees: 5 Awards. One woman is awarded for each of five regions in the developing world: Latin America and the Caribbean; East and South-East Asia and the Pacific; the Arab region; Central and South Asia; and Sub-Saharan Africa (see the list of countries in Africa above)
Value of Award: Each winner will receive a cash prize of USD 5,000 which will be awarded during a special networking ceremony to be held at the annual meeting of the American Association for the Advancement of Science (AAAS), held every year in the U.S.A. All expenses will be covered for the 5-day trip (including registration and attendance of the conference, return airfare, hotel accommodation and visa costs). During the AAAS meeting, awardees will be able to attend workshops and sessions at the AAAS meeting, visit local laboratories and institutions, and attend a celebratory dinner organized by the Elsevier Foundation. The meeting is an important opportunity to establish contacts and build networks with colleagues from different parts of the world.
The 5 awards will be distributed as follows: one for each of the four regions of the developing world, plus an additional ¨floating" award for an outstanding candidate from any of these regions.
Duration of Award: Not stated
How to Apply for the OWSD Elsevier Foundation Awards: Applications are invited from women scientists from the eligible developing countries and they must be made online.
Applications must include:
Candidate's curriculum vitae
Full list of publications
At least one (preferably two) reference letter(s)
Endorsement statement from a senior academic scientist (e.g. OWSD members, TWAS Fellows, visiting scientists and staff of The International Centre for Theoretical Physics – ICTP, national science academies, national research councils and heads of departments/universities, both in developing and developed countries).
Please note that the endorser cannot also be a referee.
Visit OWSD Elsevier Foundation Awards Webpage for details