University of Birmingham Food-Water-Energy Challenge 2017 For Young People Around the World
 Children and young people from around the world are  invited to submit a short 3 minute video which captures their understanding of the ways in which food, water and energy is produced, consumed and experienced in their everyday life.
Application Deadline: 31st December, 2016.
After submission, Online voting on You Tube will open in January 2017, and close 28th February, 2017.
Eligible Countries: All
To be taken at (country): Online
About the Award: This competition is being run as part of the (Re)Connect the Nexus research project, exploring young people's relationship and understanding of the food, water, energy nexus.  This competition is open to all young people, around the world, to gather different interpretations and experiences of the nexus in everyday life.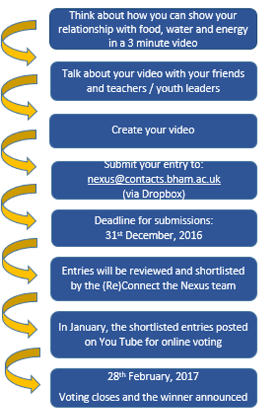 Type: Contest
Eligibility: 
The 'Food-Water-Energy' challenge is open to any school, college, university or youth organisation.
Entries are welcome from young people under the age of 25.
Entries are welcome from individuals or teams of up to four people.
A representative from each school, university, college or youth organisation will submit entries on behalf of young people (those under 18)
The submitting organisation is responsible for obtaining permission of all young people who appear in the video and for this appearing on YouTube.
Video Requirements
Videos must not exceed 3 minutes in length
Videos must address the theme 'Food, water and energy in my everyday life'
Please be aware of using soundtracks and images in your video, if these do not have copyright permission they will not be able to be uploaded on to YouTube for online voting.
Selection and Online Voting: 
– The research team will shortlist the entries based on their fit with the competition theme
– Online voting, on You Tube will open in January 2017, the winner and the runner up will be based on the highest number of 'likes' (closes 28th February, 2017).
Value of Contest: 
First Prize:
£300 (Amazon vouchers) for the submitting organisation.
£150 (Amazon vouchers) for the winning entry.
Second Prize:
£150 (Amazon vouchers) for the submitting organisation.
£100 (Amazon vouchers) for the winning entry
Duration of Contest: Winning entries will be announced in March and publicised through an extensive media campaign.  Young participants will be asked to write a piece for the project website.
How to Apply: 
– Upon submission entants must agree to the piece being used by the research team (as data, in project presentations and reports)
-Complete the application form
– Upload your entry to Dropbox (or other file sharing site) and submit to

n

e

x

u

s

@

c

o

n

t

a

c

t

s

.

b

h

a

m

.ac.uk
– Deadline for submissions: 31st December, 2016
Visit Contest Webpage for details
Award Provider: University of Birmingham, UK
Subscribe to Our Channel
Take Free and Low Fee Online Courses from these Top 5 Learning Platforms
Don't wait to be discovered; Take Your chances.
How to Apply to Win MasterCard Foundation Scholarship in 2019 - Fully funded